🚧 Construction is happening at the District Office! 🚧 The area has been demoed, prepped for remodeling, and electrical is done behind the walls and above the ceilings. It is being painted this week and next week they plan to start the ceiling and flooring. #WildRoseWildcats
"Be the change you wish to see in the world." 💛 Mrs. Johnston and our amazing SADD group collaborated with the Department of Aging to organize a yard cleaning event, and it was a resounding success! 🌟 #WildRoseWildcats
Mr. Havlo's Woods 2 students have been hard at work on their oars and they turned out great! 🛠️ 🛶 Great job, #WildRoseWildcats!
The Foods classes joined forces to create a delectable lunch for our veterans: pork chops on cheesy spaghetti squash, roasted beans, garlic bread, and a sweet touch with snickerdoodle cookies. A heartfelt thanks served on every plate! 🙌🇺🇸 #WildRoseWildcats
🌳🔨 We're so impressed with Mr. Havlo's Woods 2 students and their incredible craftsmanship! These cutting boards are a testament to their hard work and skill. Way to go, #WildRoseWildcats! 🪚👏
The School District of Wild Rose will be having a rummage sale at the bus garage on Saturday (11/11) from 8:00 am to 1:00 pm. We have materials that were taken out of the buildings due to all of the renovations happening.
Wild Rose students are hard at work rehearsing for the musical, Into The Woods by Stephen Sondheim. Please come support them - they have really poured their all into this! Performances are November 9, 10, and 11 at 7:00pm in the high school auditorium. See you there! #WildRoseWildcats
A spook-tacular time! 👻🎃 Wild Rose High School Sources of Stength peer leaders handed out candy and Sources of Strength stickers to trick or treaters last weekend! #WildRoseWildcats
We saw so many fun costumes at our Wild Rose Elementary Math and Reading Night! Thank you to Mrs. Wilson and the teachers who helped run this event. A fun time was had by all! 😃 #WildRoseWildcats
Mr. Havlovitz's welding class has been hard at work! Keep up the great work, #WildRoseWildcats!
We love fall most of all! 🍂💜💛 Middle school students had a blast at the Fallin' into Fall Festival at Flytes Fieldstones. #WildRoseWildcats
Good Evening- We will be running a test of our School Messenger system tomorrow (Wednesday-10/25) at 6:00 PM. The system is set up to place a call and email to the designated contact information in our Skyward Student Information System. If you do not receive a call and email, please login and update your emergency contact information or contact the school office.
A fab-boo-lous time! 👻🎃 Parents and students enjoyed carving pumpkins as part of our 4K Family Outreach program! #WildRoseWildcats
The SADD group enjoyed a field trip to a corn maze and pumpkin patch over the weekend! Raise your hand if fall is your favorite, too! 🤚🍁 #WildRoseWildcats
We brought the pumpkin incentive to a new level this year with extra large pumpkins! 🎃 A big thank you to Dan and Rebecca Meilke, Turner's Market, and Devin Barkalow for making this happen. Each class had its own incentive, and if the children met their goal they received a pumpkin! This year's pumpkins were bigger than ever—which meant we got a little extra exercise, too! 😉 💪 #WildRoseWildcats
CPR: be a lifesaver! Our fifth graders learned CPR this week. CPR is a life-saving skill that is essential to learn and practice. Thank you to Alex Peterson and Chief Klapoetke for teaching us! #WildRoseWildcats
Seventh graders took a field trip to the Waupaca Foundry on Friday to learn about everything that is made there! What a cool experience! #WildRoseWildcats
Our first grade #WildRoseWildcats visited the fish hatchery - always a favorite field trip among our students!
A recess our #WildRoseWildcats won't soon forget! Thanks to Chief Klapoetke - our new all time quarterback 😉 - for taking some some time out of his day to play football with our WRE students!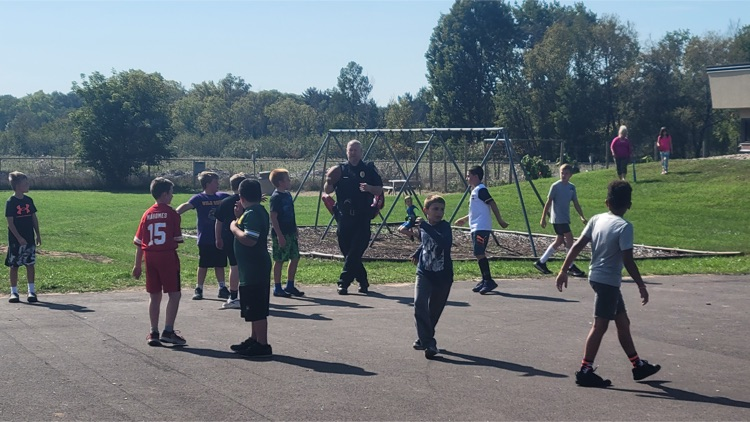 Another awesome Homecoming weekend is in the books! Check out these photos from the pep rally on Friday. So much fun! #WildRoseWildcats