Wild Rose Falls to Edgar last night in the Girls Basketball Regional Final. Great season LadyCats!

WildCats defeat the Eagles tonight 62-44. Wild Rose will play in the Regional Final tomorrow night.

Attention WildCat Fans: Tonight, February 25, our #2 seeded Lady WildCats take on the #10 seeded Almond-Bancroft Lady Eagles. Action tips off at 7:00 pm. Best of Luck #WildRoseWildcats

The Girls Basketball Regional game scheduled for Tuesday, has been postponed until Wednesday, February 23 at 7pm.

School is closed today due to weather and road conditions.

There will only be a V game tonight for the Girls Basketball Team starting tonight @ 6:30 PM

The Waushara County Health Department is collecting data for the 2022 Community Health Assessment . If you are a Waushara County resident, please visit
www.surveymonkey.com/r/waushara2022
to provide your input!

Upcoming Waushara County Library Events - Weekly/Monthly Events • Leon-Saxeville Library, Pine River Preschool Story Hour – Wednesdays, 10:30am: Preschool Story Hour meets every Wed. at 10:30 for Stories, Crafts and Fun. • Patterson Memorial Library, Wild Rose – Boredom Busters: a different craft or two for the kiddies to make at home. This month we start off with Chinese New Year and the Olympics, we will have a few different Olympic games crafts. Kids and adults can take a bag and create their boredom buster at home • Patterson Memorial Library, Wild Rose – Blind Date with a Book: All February long! Come in and Read the opening paragraph of a book covered in a brown paper wrapper, check out the book, read the book and then rate the book – was it a Dream or a Dud? • Patterson Memorial Library, Virtual – Storytime AT HOME: Mr. Kent & Mrs. Erin will read books, sing songs, count, do fingerplays and have fun with our little friends at home and our friends Blue, Chomper, Zoodle and Razzle the Wonder Monster! Wednesdays at 10:30 • Patterson Memorial Library, Wild Rose – Oscar Picks Game: Pick up an Oscar nomination form, select the winners of the different awards, winner gets a choice of a beautiful plant from the Mother's Day Plant Sale or an Oscar nominated or winning film on DVD! • Patterson Memorial Library, Wild Rose – March Madness Game: Details to follow • Hancock Public Library, Hancock – Valentine/Shamrock decoration: a different take home craft each week beginning February 7 through March 21.

Here is an updated athletics schedule for the week: Monday MSGBB vs Port Edwards - 5:30 GBB vs Pacelli - Varsity only - 6:30 BBB @ Tri-County - 6:00 - Bus - 4:50 Tuesday MSGBB vs Almond - 5:30 GBB @ Princeton - 6:00 - Bus - 4:35 BBB @ Rosholt - 6:00 - Bus - 4:10 Thursday MSGBB @ Rosholt - 5:00 - Bus - 3:30 GBB @ Tri-County - 6:00 - Bus - 4:55 Friday BBB vs Tri-County - 6:30 - Senior Night Wrestling @ Westfield - 3:00

Good Evening. A message from Wild Rose Schools. School is canceled for tomorrow - Wednesday, January 26, 2022 due to the predicted weather temps and wind chill.

Here is an updated schedule for athletics this week: Monday BBB @ Pacelli - (Varsity only) - 6:30pm Tuesday MSGBB vs Rosholt - 5:30pm BBB vs Manawa - (Varsity only) 6:30pm GBB @ Almond (Varsity only) - 7:00pm Thursday BBB vs Port Edwards (Varsity only) - 6:30pm Friday GBB @ Port Edwards (Varsity only) - 6:00pm

There will not be a JV Boys BBall game tonight and the V will start at 6:30 PM. The game is home VS. Almond-Bancroft.

The MSGBB game scheduled for tonight has been postponed.

The Varsity GBB game tonight has been postponed.

Here is an overview of the updated Athletics schedule this week: Tuesday - 1/11 BBB vs Iola - Canceled GBB @ Pittsville - ON Thursday - 1/13 BBB @ Pacelli - Postponed to 1/24 MSGBB vs Rosholt - Postponed Friday - 1/14 GBB vs Pacelli - ON (Varsity only game at 6:30pm) Monday - 1/17 MSGBB @ Tri-County - Postponed

WIC Drive-Thru Diaper Giveaway at Family Health La Clinica The community is invited to WIC's diaper drive-thru giveaway on Friday, January 7th from 3 to 6 pm at Family Health La Clinica Wautoma, located by the water tower at 400 S Townline Road. Diapers size newborn through age 5 and pull ups size 2T/3T and 3T/4T will be available on a first come, first served basis. This drive-thru event is in partnership with Jake's Network of Hope. Attendees are asked to follow the signs and drive up to form a line. WIC staff will come to you to ask the size you need, so please wait in your vehicle. They will then bring and load the diapers into your car. Those who are in line to receive diapers by 6 pm will be served if diapers remain. Family Health La Clinica is a community health center where all are welcome to receive care. Visit their website at
www.famhealth.com
and follow them on social media @fhlcchc.

All after-school activities and programs will be canceled this evening due to weather conditions.

Many families received up to half of their estimated 2021 Child Tax Credit as advance payments during 2021. In order to claim the remainder of the Child Tax Credit, they will need to file their 2021 federal tax return with the IRS in 2022. The IRS has produced a poster to share with the families of our students. IRS Publication 5534-G, "File a 2021 Tax Return to Get the Remainder of Your 2021 Child Tax Credit. " The link to the publication is provided here
https://www.irs.gov/pub/irs-pdf/p5534g.pdf
. If you prefer to go to the IRS website, Internal Revenue Service | An official website of the United States government (irs.gov), you can access the publication and download/print it by going to the Forms & Instructions link on the main page .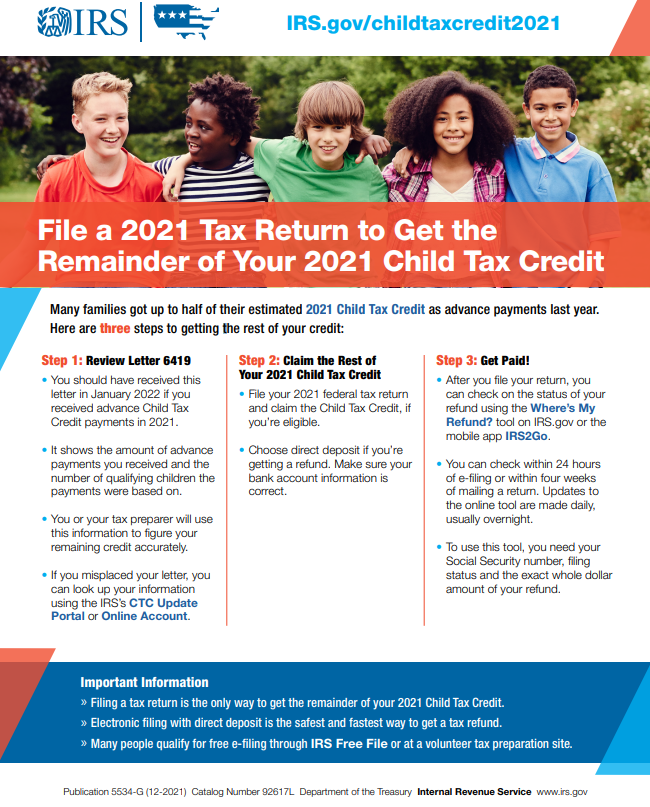 Free COVID-19 Testing Sites for the week. Please see the graphic.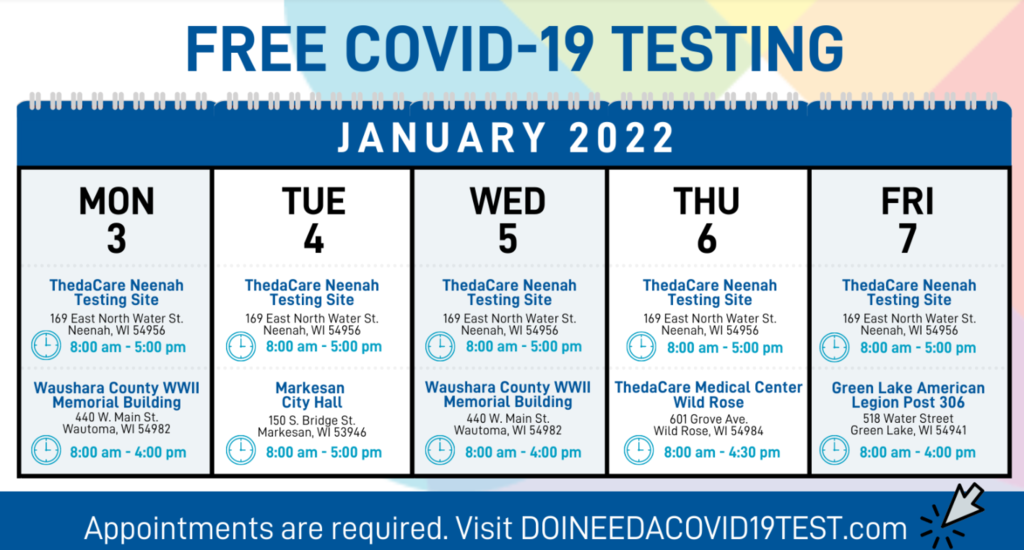 The JV Girl's Basketball game in Adams-Friendship tonight has been canceled. The Varsity game will start at 6:00pm